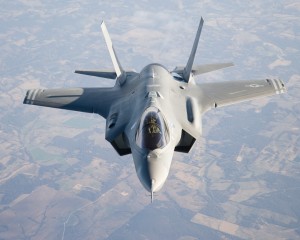 There's so much waste in military procurement and systems design and deployment, it's a dizzying task to sum it up.  We'll just point at examples of egregious fraud and mindless planning, coupled with pork-barrel funding, all of which funnel valuable resources and tax dollars into the abyss of the unrestrained shopping spree of the DOD.
Pictured at right is a perfect example of everything that can go wrong.
The F-35 Joint Strike Fighter has been judged by many knowledgeable military analysts as the largest boondoggle in the history of the world.  It is plagued with design flaws and technical problems.  So far it has cost nearly $400 billion and total outlays to bring it into full production and implementation are projected to exceed $1.5 trillion.
The DOD can't always fail at the level of trillions of dollars.  Sometimes its idiocy is only in the billion dollar range.
But it adds up.
The Department of Defense spent $40 billion between 2001 and 2014 on a missile defense program called Ground-Based Midcourse Defense System. It has been a complete flop.

Another missile defense fiasco called X-Band Radar, a floating sea-based system, wasted $10 billion of taxpayer money. This was a project of the Missile Defense Agency, which still gets funded $8-10 billion annually, despite producing practically nothing of value.
At the end of 2014, Congress allocated funds for programs the Pentagon didn't even want:

$1.46 billion for fifteen EA-18G Growler electronic warfare planes

$1 billion to begin work on an additional San Antonio-class amphibious transport dock ship

$479 million for four additional F-35 fighter jets (bringing the total number funded to 38)

$341 million to modernize twelve Apache helicopters and nine Black Hawk helicopters

$200 million for an additional Joint High Speed Vessel ship

$155 million for twelve additional MQ-9 Reaper drones

$154 million for an additional P-8A Poseidon Navy surveillance aircraft

$120 million for M1 Abrams tank upgrades

$150 million for medium and heavy tactical vehicles
We could go on and on.  But pointing at the obvious doesn't make it more obvious.  It just reinforces the need to put an end to this madness, this squandering of tax payer money to fill the coffers of the defense contractors.
It just says to us as citizens, this has gone far enough!
We need to take action immediately.